The 2013 playoffs are set to commence on Thursday, Sept. 19 at 8 p.m. ET. Eight of the league's top teams will compete, all hoping to join the ranks of the immortals and earn the distinction as the champions of women's basketball.
Here's how to watch it all transpire.
No. 1 Minnesota Lynx vs. No. 4 Seattle Storm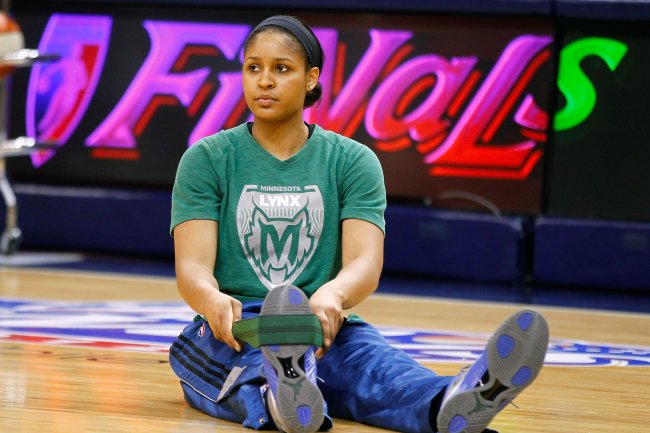 Michael Hickey/Getty Images
Game 1: Friday, Sept. 20 at 9 p.m. ET on NBA TV
Game 2: Sunday, Sept. 22 at 5 p.m. ET on ESPN2
Game 3: Tuesday, Sept. 24, time and TV
The Minnesota Lynx finished the 2013 regular season with a league-best record of 26-8. The Lynx went 15-2 at home and 18-4 against Western Conference foes and boast the deepest starting lineup in women's basketball.
Best of luck to the opposition.
The Seattle Storm have the unfortunate task of facing the Lynx after going 17-17 and finishing fourth in the West. Forced to overcome injuries to key players, the Storm concluded the regular season with marks of 11-11 against the Western Conference, 9-8 at home and 8-9 on the road.
It'll be an uphill battle against Minnesota.
During four regular-season meetings, the Lynx went 4-0 against the Storm. That includes three wins during the past three weeks, with all four of those clashes being decided by double digits.
All in all, things don't look good for Seattle.
Minnesota is led by Maya Moore, Augustus, Rebekkah and Lindsay , and they are too much for the Storm to handle on paper. If Seattle were to pull out an upset in this three-game series, it would be the biggest shock of the postseason.
Anything is possible, but the Lynx are favored for a reason.
No. 2 Los Angeles Sparks vs. No. 3 Phoenix Mercury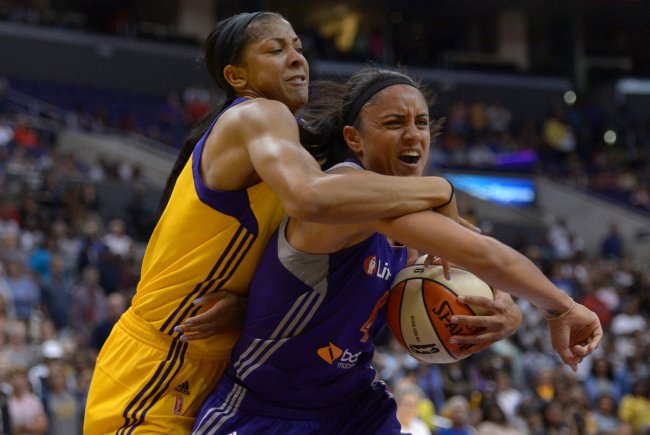 USA TODAY Sports
Game 1: Thursday, Sept. 19 at 10 p.m. ET on ESPN2
Game 2: Saturday, Sept. 21 at 10 p.m. ET on NBA TV
Game 3: Monday, Sept. 23 at 10 p.m. ET on ESPN2
The Los Angeles Sparks finished the regular season with the same record, 24-10, as the Eastern Conference champions. That should tell you that, if not for Minnesota's marvelous campaign, LA would be at the top of the West.
Fortunately for basketball fans, the Sparks' opponents are just as dangerous, albeit less consistently.
The Phoenix Mercury, led by superstar guard Diana , went 19-15 during the regular season. What's concerning, however, is that Phoenix was 9-13 against the Western Conference-you know, where the Mercury calls home.
Even still, this should be a fun series to watch.
is the top offensive force in the league, averaging 20.3 points and 6.2 assists per game. With Brittney leading the league in blocks at 3.0 per contest and Bonner adding 14.5 points and 5.8 rebounds, Phoenix has the star power necessary to pull out the upset.
The Sparks are ready to combat the threat.
Candace Parker is still at the top of her craft, averaging 17.9 points, 8.7 rebounds, 3.8 assists, 1.8 blocks and 1.3 steals per game. Lindsey Harding (5.2 assists) and Kristi 14.1 points on 38.3 percent shooting from three-point range) provide the perimeter punch to complement Parker's interior brilliance.
This projects to be a great series, but LA did defeat the Mercury 89-55 on Sept. 15. Anything is possible here.
No. 1 Chicago Sky vs. No. 4 Indiana Fever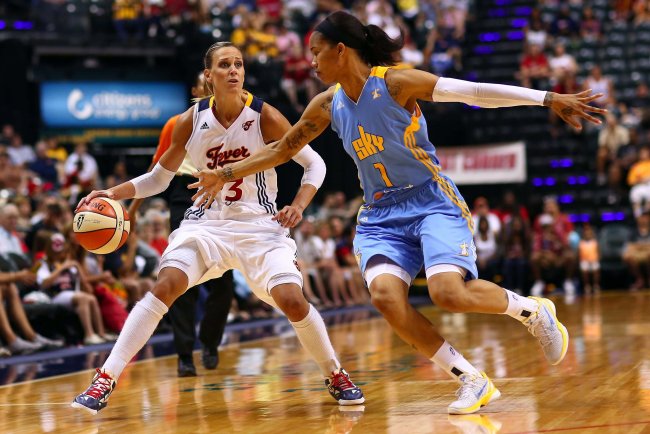 Michael Hickey-USA TODAY Sports
Game 1: Friday, Sept. 20 at 7 p.m. ET on NBA TV
Game 2: Sunday, Sept. 22 at 3 p.m. ET on ESPN2
Game 3: Tuesday, Sept. 24, time and TV
Not only will it be one of the best series we see all postseason, but when the Chicago Sky meet the Indiana Fever, it'll be the most intriguing. The Sky topped the Eastern Conference at 24-10 and are thus the favorites to reach the finals, but the Fever are the reigning champions.
Still not intrigued? Well, it gets better.
In four regular-season meetings with the Fever, Chicago was just 1-3. That displays just how misleading the Fever's 16-18 record is, as they've been one of the best teams in the since Tamika Catchings got over the injury bug.
Keep in mind, Katie Douglas only recently returned and has already started posting double-digit scoring performances.
Chicago has a stacked roster, but if any team is on upset alert, it is the Sky. Elena Donne, Sylvia and Epiphanny Prince are all scoring in double figures, but Indiana has a significant edge in postseason experience.
That will be a key in this series, as Catchings and Douglas comprise a tandem that has found success before, while Donne has not. Both Catchings and Douglas are elite on-ball defenders, and each played a critical role offensively during Indiana's title run in 2012, while Donne is a rookie.
The Sky may have the better record, but Chicago is a sort-of-but-not-really underdog here.
No. 2 Atlanta Dream vs. No. 3 Washington Mystics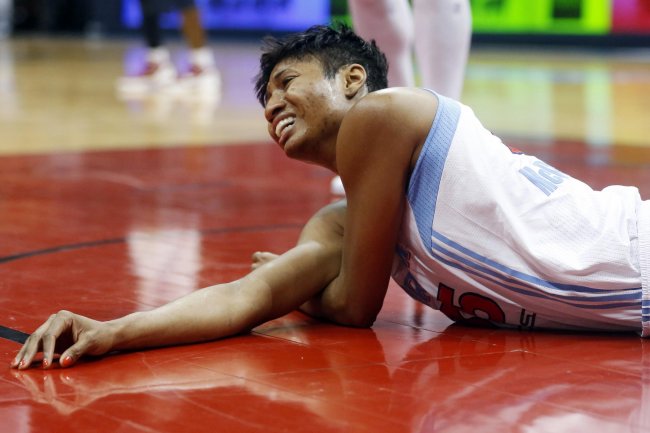 Josh D. Weiss-USA TODAY Sports
Game 1: Thursday, Sept. 19 at 8 p.m. ET on ESPN2
Game 2: Saturday, Sept. 21 at 7 p.m. ET on NBA TV
Game 3: Monday, Sept. 21, time and TV
The Atlanta Dream enter this series with a record of 17-17, experiencing an inexplicable downfall from the top of the standings. Once the team that was running away with the Eastern Conference, Atlanta went 5-16 during its last 21 games.
That's not a rut, ladies and gentlemen. That's a genuine collapse.
As logical as it is to write Atlanta off, Angel McCoughtry did lead the league with 21.5 points per game while also averaging 5.3 rebounds, 4.4 assists and 2.7 steals. For all of her statistical brilliance, however, there has been an absence of victories.
The Washington Mystics are poised to continue Atlanta's losing stretch.
Washington finished the season with a 17-17 record, winning its final three games and going 8-4 during its final 12. With a balanced starting lineup that's led by Ivory 13.9 points and 4.4 assists), the Mystics have quietly moved up the standings.
A series against a struggling Dream team is, well, dream-like.
With all of this being established, until Atlanta is knocked out of the postseason, it remains the favorite to win this series. McCoughtry is a true superstar, and when focused, the Dream play smothering team defense.
It won't be easy, but Atlanta should be favored.
Source:
Bleacherreport